You've been hearing the hype about brass toning purple shampoo and how it can help brighten your blonde. And you're probably wondering to yourself, "but does it really work?" Well I can tell you from personal experience, YES IT DOES!!!
If you have ever had any lightening service done to your hair, you are probably no stranger to the 'toner' that inevitably comes along with it. Sometimes these toners can be so bright purple you think your hair will forever be that shade of violet plum and are wondering if your hairdresser is paying attention. But as soon as you are done there's not a piece of violet left and you are the blonde bombshell you've always wanted to be! Purple shampoos help to do the same affect at home, just not as long lasting.
How do toning purple shampoos work?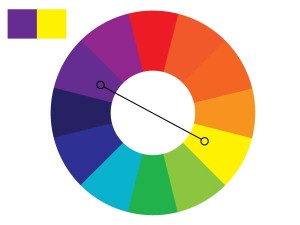 When you look at the color wheel, purple is exact opposite of yellow. So when your hair is a brassy yellow instead of soft blonde, purple pigment is deposited into the hair to bust the brass. Purple shampoo is also great for brightening silver strands too! Using purple shampoo as aftercare at home is the best thing for in-between color appointments! Its like doing a mini toner at home!
How many times a week should I use my Purple Shampoo?
This is a question that our hairdressers get asked a lot. The Answer? It depends on your hair. Most of the time, your hairdresser will tell you to try it once a week and don't leave it in too long since the purple pigment can actually stay in your hair until the next time you shower. If you're like me though, you need it every time you shampoo! So it really is a by person and hair type basis. If you are unsure you can always ask your hairdresser. After all, when it comes to your hair, they know best!
How do do I know which purple shampoo is right for me?
Good question! There are a ton of purple toning shampoos on the market right now. I'm going to talk about the two great purple shampoos that we carry. I have tried both and LOVE them!
First I'll talk about the Keratin Complex Blondeshell Shampoo & Conditoner. These products are great because they work together to bust your brass.
Keratin Complex Blondeshell Debrass & Brighten Shampoo & Conditioner
This Duo features a special fade-fighting chamomile complex that neutralizes brassy tones and keeps color true. This sodium chloride- and sulfate-free formula contains a reparative blend of vitamins, amino acids and hydrolyzed keratin protein that helps increase the hair's strength and resilience. SILK AMINO ACIDS help strengthen hair to prevent breakage and split ends. CHAMOMILE EXTRACT brightens and supports long lasting color. AVOCADO OIL delivers essential nutrients and vitamins to boost hair health. Ideal for all hair types, including blonde, silver and color-treated hair. This pair is also recommended as take-home care after you receive a Keratin Complex treatment! Read more about our Keratin Complex Treatment Here!
Soma Blonde & Silver Hair Shampoo
Give your blonde or gray hair a boost of vibrancy with this moisture and protein – rich shampoo Made with Cinnamidopropyltrimonium Chloride, which helps guard against sun damage, and Helianthus Annuus (Sunflower) seed extract, a free radical neutralizer. A low pH range keeps the hair cuticle closed, locking in color. This product is "sulfate-free, optimal pH levels (4.5-5.5), made with keratin and wheat protein, hypoallergenic, 100% Biodegradable, *100% Alcohol-Free and 100% Vegan." We are loving all the SOMA products because they actually are what they say they are! Plus, you won't break the bank when buying their products.
Do I need to have blonde hair to use a Purple Toning Shampoo?
The answer is no! Even if you have soft caramel highlights in your beautiful brown hair, purple shampoo helps to keep the brass away. We have a lot of clients use purple shampoo to refresh their highlights and babylights and to keep their silver hair looking its best! Ask your hairdresser which products are right for you!
You be the judge! Try a Purple Shampoo and let us know does it Bust your Brass?
Post by Cari E. Mendez